USUG Membership Login.
AMERICAN NUCLEAR SOCIETY 3.5 STANDARD
ANS-3.5 Working Group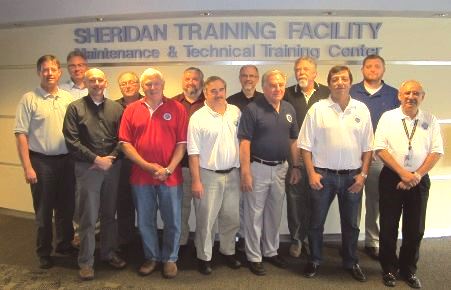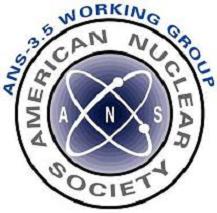 Sheridan Training Facility (Host: Nebraska Public Power District/Cooper Nuclear Station)
Auburn, Nebraska
November 5-8, 2013

ANS 3.5 Working Group Meeting Attendees
Left to Right: Jim Florence - Chair (Cooper); Michael Petersen (Monticello/Prairie Island); Dave Goodman (Comanche Peak); Bill Fraser (Westinghouse); Butch Colby – Editor (L3 MAPPS); Robert Goldman (Grand Gulf); Tim Dennis (guest); Keith Welchel - Secretary (Oconee); Frank Tarselli (individual contributor); James Sale (North Anna); Pablo Rey (Tecnatom Spain); Dennis Spielman (guest – Vogtle 3 & 4); Larry Vick – Parliamentarian (NRC)
ANS-3.5-201X SCOPE
This standard establishes the functional requirements for full scope nuclear power plant control room simulators that are subject to U.S. Nuclear Regulatory Commission Regulation for use in operator training and examination. The standard also establishes criteria for the scope of simulation, performance, and functional capabilities of nuclear power plant control room simulators.

This standard does not establish criteria for the use of simulators in operator training programs.
WORKING GROUP MEMBERS
Membership Information 02/15/18.
PROJECT INITIATION NOTIFICATION (Approved)
PINS: PROJECT INITIATION NOTIFICATION SYSTEM FORM
MEETING SCHEDULE
Comment resolution in progress as of 01/21/16; no additional meetings scheduled to date.
ANS 3.5 WORKING GROUP MEETING MINUTES

For development of ANS-3.5-201X Standard:
For development of ANS-3.5-2009 Standard (historical):
NOTE: For questions regarding meeting minutes, please contact the ANS-3.5 Working Group Secretary at kwelchel@duke-energy.com
STANDARDS DEVELOPMENT RESOURCES
Standards Development Checklist Sheet
ANSI Style Manual; 8th Edition; Version 1.0; 03/01/91 (historical)
ANS Procedures Manual for Consensus Committees
ANS-3.5 STANDARD RESPONSES TO INQUIRIES
Responses to inquiries regarding various editions of the ANS-3.5 standard may be located at: http://www.ans.org/standards/inquiryresponses/
SUBMITTING CLARIFICATIONS
The American Nuclear Society accepts no responsibility for interpretations of the ANS-3.5 Standard made by any individual or by any ad hoc group of individuals. Requests for interpretation/clarification should be sent directly to the Standards Department at Society Headquarters. Action will be taken to provide appropriate response in accordance with established procedures that ensure consensus on the interpretation.
Please forward requests for ANS-3.5 Standard interpretation/clarifications directly to:
Standards Administrator
American Nuclear Society
555 North Kensington Avenue
La Grange Park, Illinois 60526 USA
USE OF THE ANS-3.5 WORKING GROUP WEBSITE
Release of Information Policy:
The ANS-3.5 Working Group will through the course of normal business, generate confidential documentation applicable to the working group charter. As a result of this business, documentation may be released to the public through approved minutes posted on the ANS-3.5 website. Other information may be released to the public as deemed appropriate by the working group Chair or Vice-Chair. In addition, information may be supplied to non-working group members on a need-to-know basis for the purpose of review and comment.
The following information may be posted on the ANS-3.5 Web Pages:
Working Group Membership List
Approved Meeting Minutes/Action Items
Next meeting location/agenda
Photographs
Feedback Mechanism
The following items shall not be posted on the ANS-3.5 Web Pages:
Information of a sensitive nature
Working Group membership issues
Draft Documents
Use of the Internet or E-mail for the following purposes are prohibited:
Product advertisement
Commercial activities
Receipt or transmittal of threatening, sexual, racial or obscene material
Political lobbying
Transmitting chain letters or "junk" mail
Transmission of confidential and proprietary information unless expressly approved by an ANS-3.5 Working Group Officer.
Solicitations for commercial ventures, religious or political causes, outside organizations or other non-work related causes