WELCOME TO THE UTILITY SIMULATOR USERS GROUP WEBSITE!
The Utility Simulator Users Group (USUG), established by the member nuclear utilities, promotes safe and reliable operation of nuclear electric generating plants through the improvement of simulator maintenance, modification, fidelity and through promotion of use of the simulator within the training programs.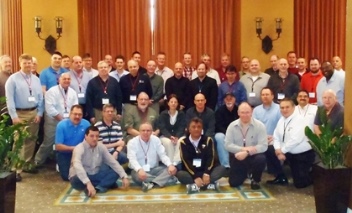 "We are the USUG"
Annual Business Meeting
February 4, 2016
San Antonio, TX
The organization promotes cooperation and the exchange of information among its members. USUG encourages discussions among its members on subjects relating to simulator configuration control, performance, fidelity, maintenance, reliability, and training. USUG supports the simulator-related training activities of the National Academy for Nuclear Training, the Institute of Nuclear Power Operations, and the World Association of Nuclear Operators.

Membership Login.
LATEST UPDATES:
01/06/16
Here's a survey that answers the question: What make and model server are you using in your Simulator? View now
04/15/15
Dual Simulator Informal Benchmark from Farley View now
03/28/14
WANTED: Looking for Westinghouse RVLIS/ICCM plasma display parts View now
07/19/13
Simulator Health Self Assessment performed at Vogtle 1&2 View now
06/18/13
Simulator hardware and software deficiencies not resolved in a timely manner. View now
05/22/13
WANTED: Looking Tracor Westronics Series 2400 Chart Recorder (boards CB 100244-03 RevH and CB 100309-01 RevB) spare parts, repair vendor, and/or experience repairing these boards. View now
05/08/13
WANTED: Looking for a spare Yokogawa Remote Scanner Model 3882E. View now
04/23/13
Failure to Maintain the Simulator in Accordance with ANSI/ANS 3.5-2009. View now
04/23/13
Grand Gulf NCV on Failure to Maintain Examination Integrity. View now
04/22/13
Cooper NCV on Failure to Maintain Examination Integrity. View now
03/11/13
We (Point Beach) are looking to speak with someone who has experience with modeling Westinghouse cores using EZ Tune. View now
02/25/13
Survey results on configuration management software. View now
02/07/13
NRC Information Notice 2012-11 pertaining to AGE-RELATED CAPACITOR DEGRADATION View now
01/29/13
Robert Good of TVA has posted a benchmark he did on the industry status of simulator upgrades. View now
01/29/13
benchmark survey on the job qualification card (process) for the people that operate the simulator instructor booth. View now

---